Stuffed Capsicum with Mung Bean and Vegies
My inspiration for this dish comes from a classic dish from my childhood, where my mum used to make stuffed peppers with rice and mince meat regularly. This is a modern, healthier adaptation of that dish, with mung beans as the hero. Mung beans are a type of small legume and are an excellent source of plant protein, so it's great for vegetarians/vegans. They are also a very filling food, high in resistant starch and dietary fibre. Their high nutrient density makes them useful in defending against chronic, age-related diseases, including heart disease, cancer, diabetes, and obesity.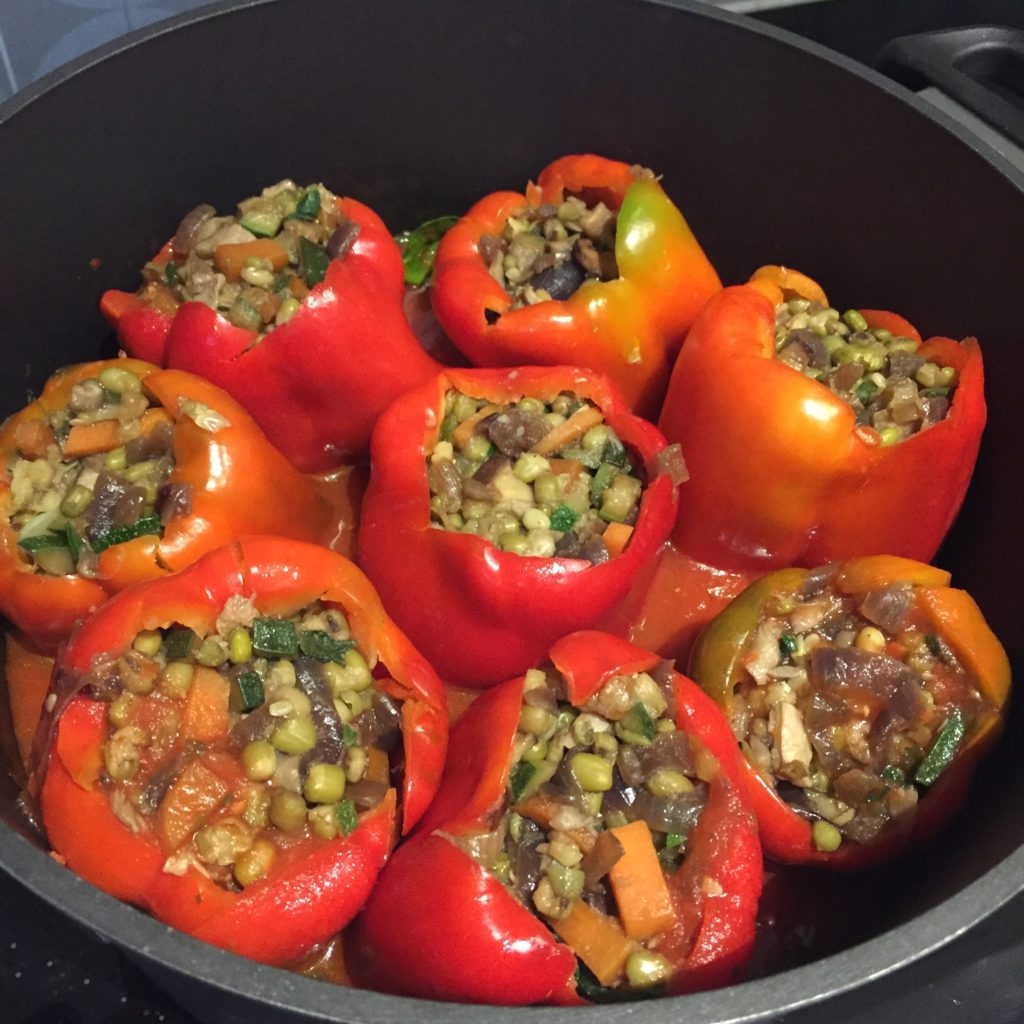 Ingredients:250g mung beans, soaked in filtered water overnight8 red capsicum, tops, core and seeds removed1 tablespoon coconut oil / olive oil3 red onions, sliced2 zucchini, diced650g mixed mushrooms, diced1 carrot, diced2 bok choy, sliced½ cup fresh parsley, chopped1 teaspoon tamari1 teaspoon garlic powdersalt and pepper to taste½ tablespoon coconut oil / olive oil1 garlic clove, mincedsprinkle chili flakes1 can diced tomatoes400ml tomato passata100g baby spinachMethod:Prepare mung beans by rinsing them from the water they have been soaking in overnight and then placing them in a pot on the stove. Cover with water and bring to the boil, reduce heat to a simmer and allow mung beans to cook for 20-25 so that they still have some crunch. Once cooking time is complete, drain and rinse and cold water.Whilst mung beans are cooking, prepare the red capsicum and set aside.Heat your oil in a fry pan and add your red onions. Allow these to caramelise so try not to stir them too often but make sure that they do not burn. This can take approximately 20-25 minutes. Once you are happy with the onions, add the zucchini, mushrooms, carrot and bok choy. Allow all the vegetables to sauté for 10 minutes, stirring occasionally.
Add your fresh parsley, tamari and seasoning. Give it a good stir to make sure it is all combined. In a large bowl, mix together the mung beans and vegetables. Prior to stuffing the capsicum, heat an oven-proof dish with the oil. Add the garlic and chili, giving it a quick stir. Add your passata and diced tomatoes and bring to the boil. Whilst you are waiting for this to occur, you can start stuffing your capsicum with the mung bean and vegetable filling. You don't want it to overflow, but fill it enough so that the capsicum is filled. Once the sauce is boiling, add your spinach and allow it to wilt. Add your capsicum (standing them up so that they don't fall). Simmer for 20 minutes and then transfer to a pre-heated oven of 160 degrees for a further 1 hour of cooking. This can be served as a main meal with a salad or as a side to your protein. Serves 4-6
​
Serves 4-6
​
​